As Harbor Club residents for the past 10 years, Jim and I are excited to spread the news of this new honor to our community.  Here is the press release from Real Estate Scorecard
Real Estate Scorecard Honors Harbor Club at Lake Oconee with 2017 Bliss Award for Best Lake Community of the Year
Real Estate Scorecard provides in-depth research and candid insight into the overall happiness and satisfaction of over 390 master planned communities in the Southeast. Each year, they honor the 'best' with a Bliss Award in fifteen categories including Happiest Community in America.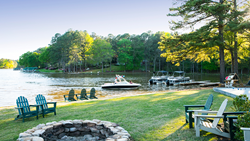 2017 Bliss Award Winner – Best Lake Community of the Year
ATLANTA, GEORGIA (PRWEB) FEBRUARY 22, 2017
When Real Estate Scorecard looks for the best lake communities in the South, the water quality and lake level fluctuations are important factors they consider. Lake Oconee in Central Georgia is Georgia's second largest lake, so it made exploring the lake a logical choice. Lake Oconee is warm, it's clean, and the annual lake levels vary less than 2 feet. This is important for folks who own a home directly on the lake because they can have a permanent dock behind their home.
Purchasing lakefront property like this can be expensive. But an affordable alternative is to own a home with views of the lake all throughout the community. It is also important to have amenities on the lake such as a marina, fuel and dining. When they stumbled upon Harbor Club at Lake Oconee back in 2013, they knew they'd found something special. Both lakefront and lake view homes. Unlike many of the vacation and second home communities nearby, approximately 90% of the residents live year round in the 1,000 acre neighborhood. The community is vibrant and full of social activity.
Last year, Harbor Club at Lake Oconee experienced record sales according to public records. Over 100 families chose to live at the lake community. 540 homes are already built to date of the 1,100 planned. While the area has attracted vacationing Atlantans over the years, retirees from all over the country have discovered this friendly lakefront neighborhood. Folks like the fact that golf membership is not mandatory yet they have the option.
Established over 25 years ago, all the amenities are built for the property owners enjoyment which include a full service marina and restaurant on the lake, elegant 15,000 square foot golf clubhouse (newly renovated), swim and tennis center, new state-of-the-art fitness center, croquet and event lawn, nature and fitness trails. The golf course was named Top 4 places to play in the state of Georgia by Golf Magazine. The course beautifully intertwines between sparkling ponds, gentle rolling hills and four holes touching the water of Lake Oconee.
Real Estate Scorecard visited Harbor Club at Lake Oconee earlier this year and toured several of the model homes. The spacious new Cottage Series homes are impressive priced in the $300's. New homes range from $279,000 to $659,000, a bargain to them when comparing against other lake communities. Homesites range from $49,900 to the $600's. The Harbor Club at Lake Oconee HOA fees are only $900 a year. To access the amenities (except golf), a social membership is needed and fees are only $103 a month. The initiation fee is $1,500. Full golf membership fees are $341 a month plus a $10,000 initiation fee. These are the lowest fees they have seen among almost 100 lake communities they've analyzed. For less than $200 a month in HOA/social fees, property owners can live in one of the best places to retire on a lake. Giving more bang to the buck, the real estate taxes in Greene County are among the lowest in Georgia too.
Getting around The Harbor Club at Lake Oconee is easy. The community hugs nine miles of Lake Oconee shoreline and is golf cart friendly. At The Boathouse at Harbor Club, you'll find 72 dry stack storage slips of the 330 planned and day docks, fuel and two boat ramps on Lake Oconee. Lake Oconee is located below the 'snow line' in Central Georgia which means year round boating and water sports. The winters are mild and summers are hot, just what folks hope for living on a lake.
The Harbor Club at Lake Oconee is an obvious choice the 2017 Bliss Award winner for Best Lake Community of the Year according to Real Estate Scorecard. Kudos to them.
If folks would like to experience the club, ask Real Estate Scorecard to send you a complete information package and check on Discovery Package information by writing info(at)realestatescorecard(dot)com.
About Real Estate Scorecard:
Real Estate Scorecard writes unbiased real estate reviews providing in-depth information about popular gated communities in Florida, Georgia, the Carolinas and Tennessee and Central America, all in an effort to help people discover where to retire in the South.
Website: http://realestatescorecard.com
Contact us to view homes for sale at Lake Oconee's Harbor Club!
Below are our featured listings at Harbor Club
Contact us at RE/MAX Lake Country
Suzie Hudson 706-347-1115, or Jim Hudson, 706-453-6253. 
Blog:

Read all posts above

, subscribe to new posts at the lower right corner of home page